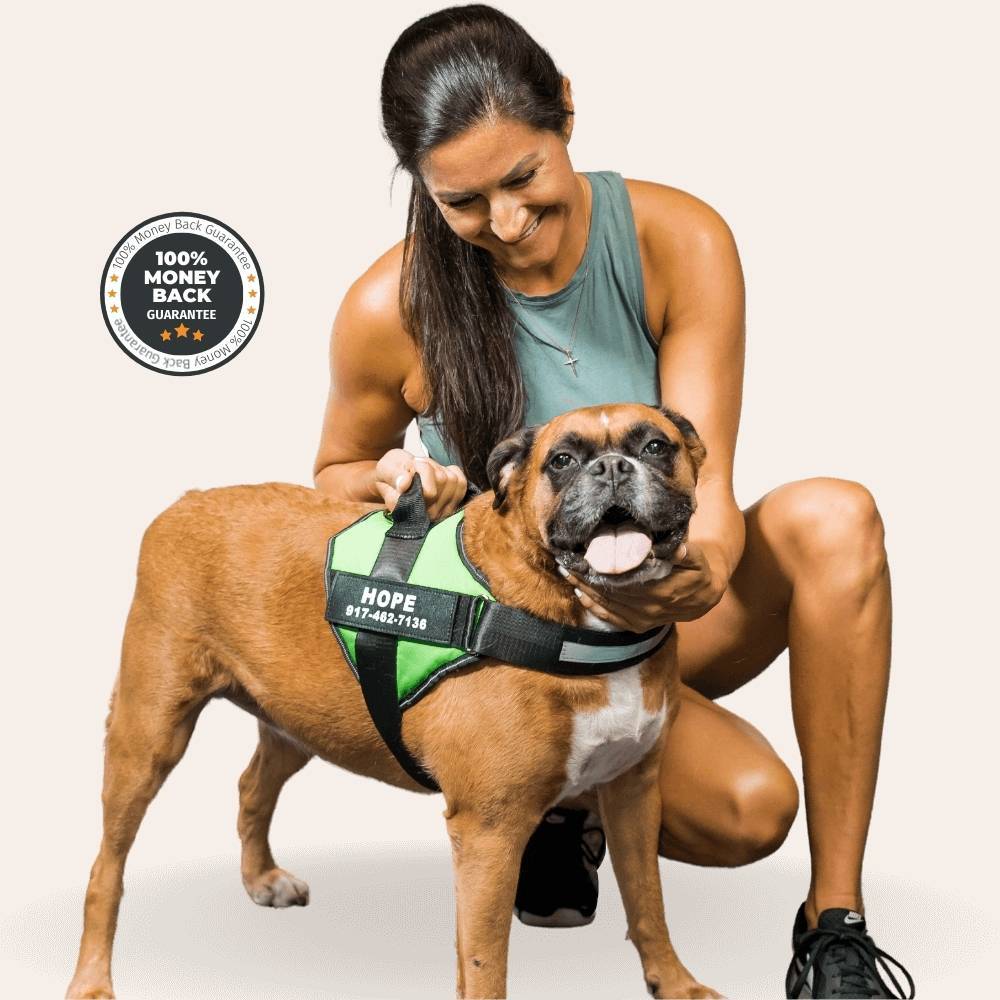 The Original GraspHarness™
Personalized No-Pull Dog Harness
Trusted by veterinarians and now over 100,000 dog owners; this amazing GraspHarness comes in multiple colors & sizes to accommodate all breeds. Comfortable, safe & secure for everyday use.
✓ Easy On/Off In 3 Seconds
✓ Eliminates Choking & Pulling
✓ Personalized Name & Phone Number
✓ Reduces Risk Of Neck Injury/Tracheal Collapse
✓ 100% Money-Back Guarantee

"The personalized detail and reflective strap are amazing! It keeps my fur baby safe AND I can put it on my pup in seconds! It's the best harness I've ever used" - Candice C.
Makes Walking Your Dog So Much Easier
GraspHarness™ No-Pull Dog Harness
Let's face it, a dog that is constantly pulling can be really frustrating for pet parents who just want to go on a nice, leisurely walk. If you find yourself being dragged on your daily walks, or your pup is already showing signs of neck/tracheal damage due to excessive pulling, then it's time to reconsider your options when it comes to your dog walking supplies!
Introducing the Original GraspHarness™ Personalized No-Pull Dog Harness – made by pet parents, for pet parents. Specifically designed to discourage pulling, help you gain more control on your walks, and improve your pup's dog-leash skills.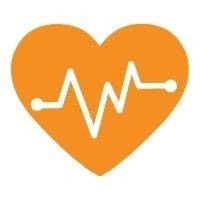 Relieves pressure from neck, trachea & other key organs unlike traditional collars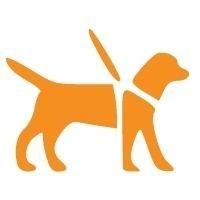 Encourages your dog to heel, and not pull, giving you more control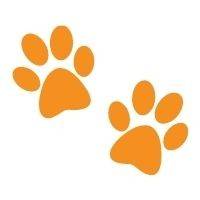 Lets you enjoy safer, more peaceful, and enjoyable walks together with your pup
Available In 6 Colors & 6 Sizes
Suitable For All Kinds Of Breeds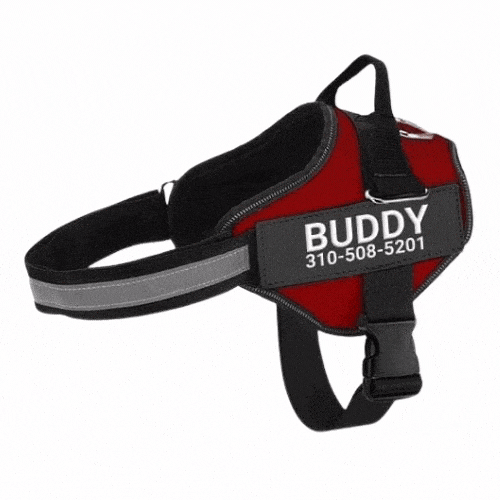 💰 60 Day Money-Back Guarantee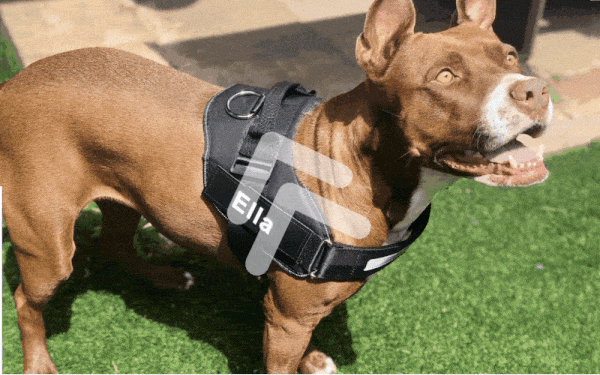 GrASpHarness™ redistributes pressure across your dog's chest instead of the neck.
GraspHarness™ redistributes pressure across your dog's chest instead of the neck.
Unlike traditional dog collars, tension is reduced from your pup's throat as they strain forward.
This gives you a greater ability to control while providing utmost comfort to your dog. It not only reduces the annoying pulling motions your dog tends to do but also prevents trauma to your dog's neck, trachea, and cervical spine which can lead to serious health problems.
Keeping your dog's neck free and healthy will result in better health and longer life.
🌎 FREE WORLDWIDE SHIPPING INCLUDED
What Pet Parents Love About GraspHarness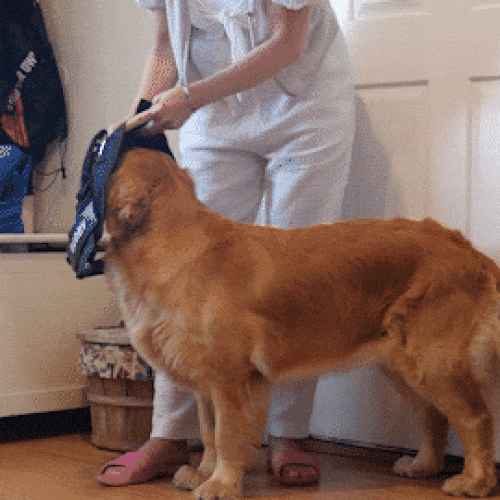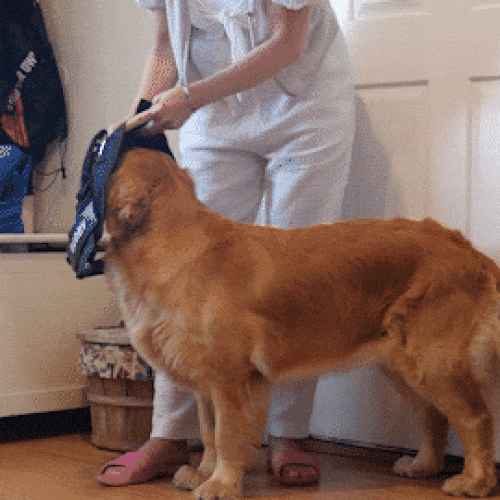 ✓ Straps On/Off In 3 Seconds
Just slip it over your dog's head and buckle the strap like a seatbelt and you're ready for adventure! Many of our customers report that they can put the harness on with only one hand.
✓ Stylish Design With Personalized Details
Now you can adventure with more confidence! Your dog will draw lots of attention while boasting the stylish GraspHarness™ with personalized text and your phone number. Comes in bright colors with a reflective strap that makes your pup stand out for safety & so you can see them better.
✓ Improves Your Dog's Behavior
Stop using the usual neck harnesses that hurt your furry-friend when they pull, treat them with our comfortable to wear GraspHarness™, and you will surely notice a huge improvement in their behavior as they associate an overall pleasant feeling while on walks.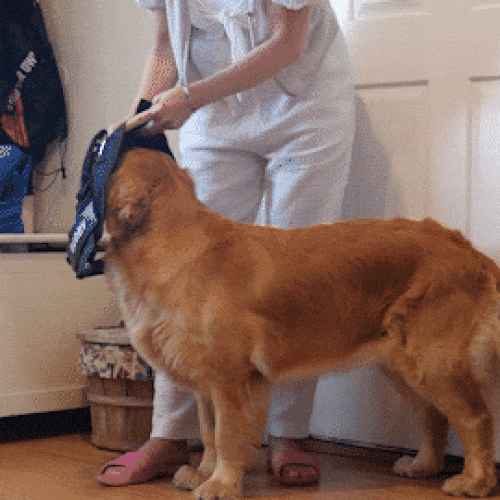 Why GraspHarness Is Better Than A Collar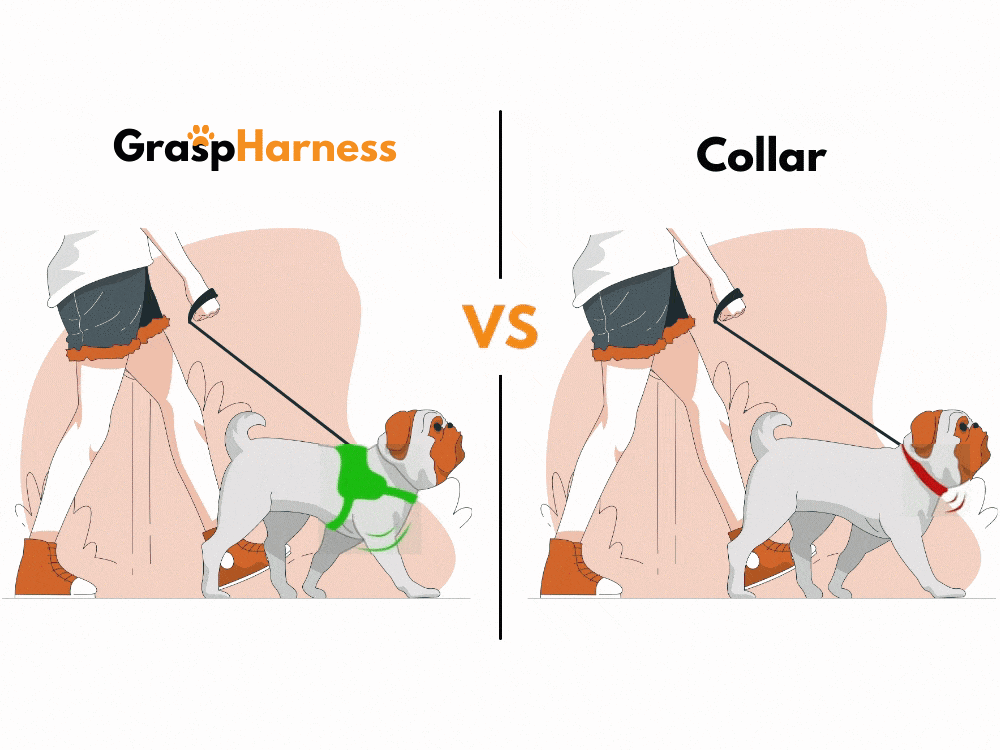 The GraspHarness™ is perfect for training, discourages pulling, and allows you to stop your dog from jumping up on strangers without worrying about choking all while giving you more control. Dogs on harnesses are also less likely to be tangled up in the leash accidentally.
A big advantage a harness has over collars is that they reduce the risk of neck injury which dogs are prone to. They massively reduce respiratory problems & tracheal collapses.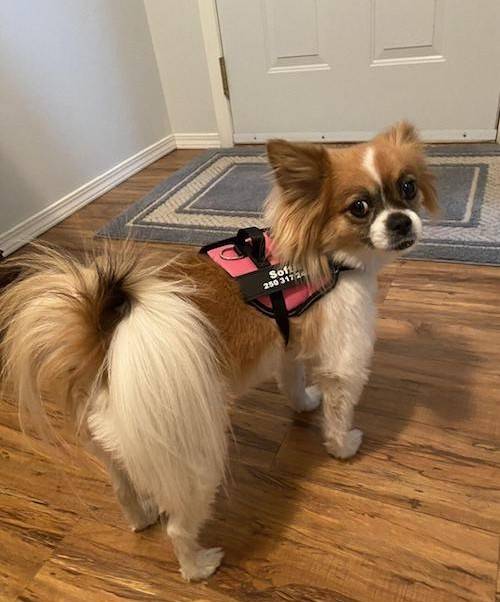 We love this harness so much!!
—

Had this harness for a little over a week now and we love it ! Love the bright colours and the highly reflective front chest strap which helps keep us both safe during evening hours. It is so much easier to put on and take off than my other harness. Both pup and I recommend this harness!!!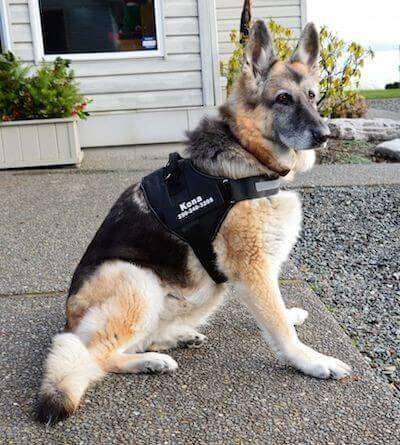 GraspHarness is a god send!
—
Harness has been a god send. Reflective strip is helpful with earlier dark evenings as well as early morning walks. Harness is easy to adjust on the front and underneath the belly. Quick release buckle makes it quick to place on and remove while in multiple positions. Personalized label is clear, reflective and is easily removed from the vest due to the Velcro backing on both sides. Large D ring on back of harness makes it easy to hook up and remove a leash. Nylon material makes it strong and easy to clean. This is a well made product that I highly recommend for medium to larger goal oriented outdoor dogs. :)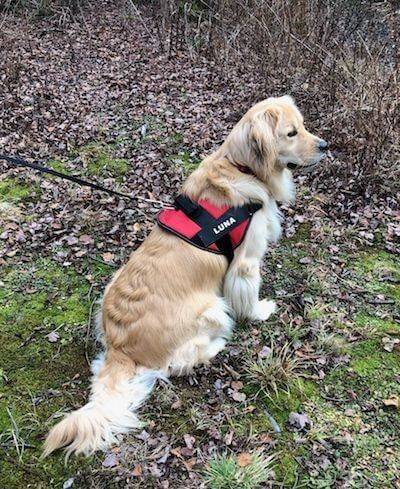 This is every fur parent's must-have!! 😍😍😍
—
Me and Luna loves her harness so much! So much easier to put on and take off then any previous harness. Much more comfortable for her as well. What we love about it -
- Reflective strap for safety
- very easy to put on
- sturdy high quality materials
- very comfy, pepper loves to be in it!
- love the color
We highly recommend this..it's the best ever!!!!
60 Day Money-Back Guarantee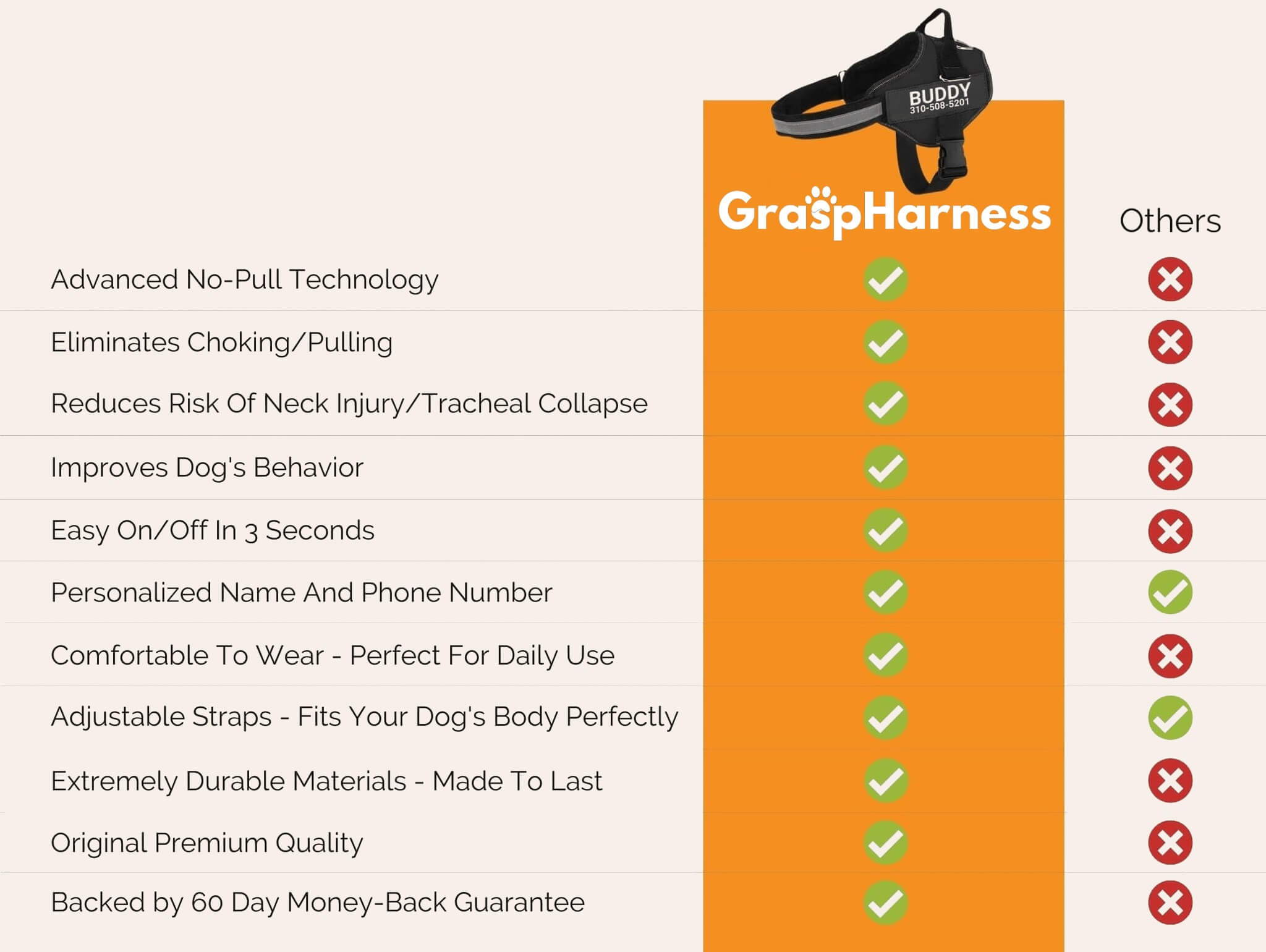 All orders are expertly personalized, prepared, and shipped within 2-4 business days. We offer FREE shipping worldwide and the typical delivery time frame is between 6-12 business days. Due to covid, some shipping may be delayed beyond our control.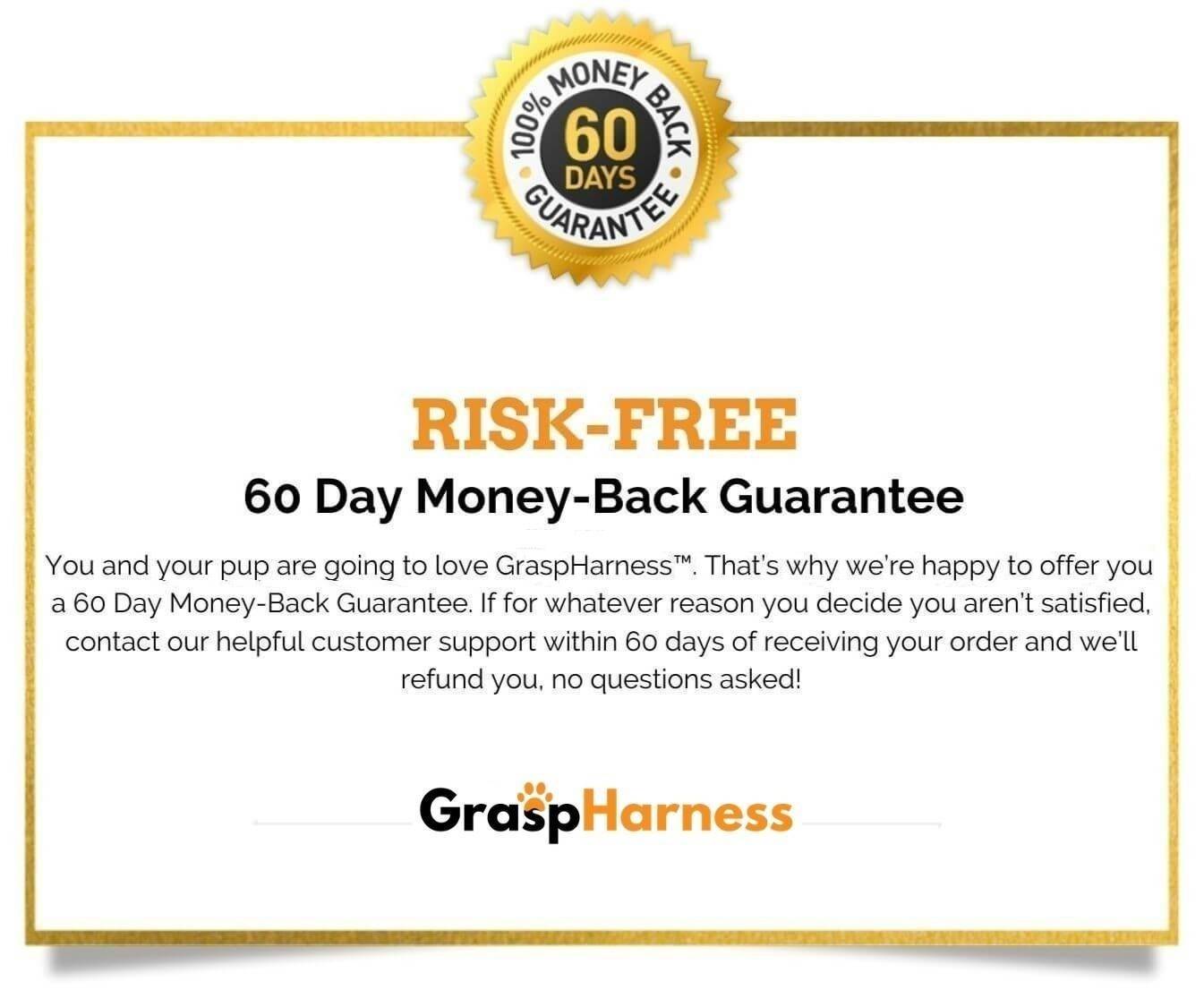 Which size should iI get?
We suggest choosing the size based on your dog's weight. You can also use our size chart to help you further & give you some examples. It's located above the "Add To Cart" labeled "SIZE CHART" on our product page.
Do you have XXS or XXXL & large available?
At the moment we don't. However we are working on providing smaller & larger sizes in the near future. We suggest you give XS or XXL a go, and if it doesn't fit you can return it.
If your cat weighs 5 lbs or less, then yes your cat can use it. Simply select the size by weight (usually XS). Currently, we not have a smaller size. We are working on releasing smaller (& larger) sizes in the near future.
Is the GraspHarness reflective at night?
Yes! There is a reflective outline on the GraspHarness™ to ensure your dog is safe & visible at night time.
How do I return or exchange an item?
Returns & exchanges are easy. Simply contact us with your order number. See our full Return Policy for more details.
What if the product arrives brohen or damaged?
Simply contact us within 7 days from the day you receive it, and we'll send you a free replacement. If outside the 7 days from the delivery date, there will be a $4.99 restock fee.
What are you shipping options?
We offer FREE SHIPPING within the US & worldwide. US customers will receive their GraspHarness™ via USPS, Fedex or DHL.
It depends on your location. We have multiple fulfillment centers across the glove. If the item you've purchased is out of inventory at your nearest location, it will be shipped from the next closest location.
How long will my item take to arrive?
All orders are professionally customized, processed, and dispatched from our warehouse within 2-4 business days. Once shipped, for US customers it generally between 6-12 business days for USPS/Fedex to deliver it. For worldwide, it generally takes 7-16 business days depending on your location. Please do note that due to covid-19 affecting the global supply chain, some customers may experience delays depending on their location which is out of our control.
The Original GraspHarness™ - Personalized No-Pull Dog Harness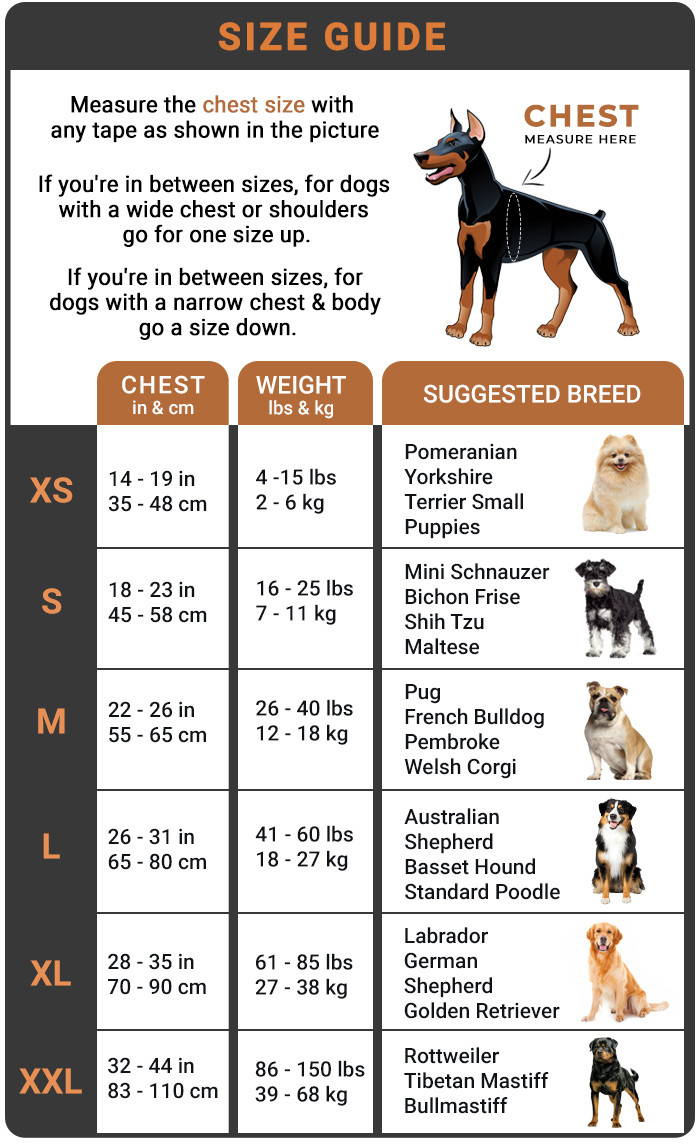 For a more visual check, you can check out our reviews at the bottom of the page. Each review contains what size the customer ordered, thus you will be able to more accurately see what size you dog needs.